Customer Reviews
About Me
By Rich
Jesup, IA

"The people we dealt with were top notch. They knew their stuff and were very helpful in explaining what we needed, why we needed..."

By Brian M.
Ottumwa, IA

"Outstanding experience start to finish. Keep it up and you guys will have the whole basement market in Iowa! I would be happy to..."

By Margaret L.
Marshalltown, IA

"Great overall experience!!Wondered when we will receive our cover for egress window?"

By Robert B.
Chariton, IA

"Nick & Jason were great in preparing us for the project. Santos & his crew were easy to work with and did a great job."

By Gary L.
Carlisle, IA

"I have communicated to Nick that you by all means can use me as a reference any time you desire. MBS is the best in my..."

By Deanna W.
Des Moines, IA

"After having an extrememly negative experience with a contractor I was hesitant for other work to be done on my home. I could not..."

By Jennifer M.
Des Moines, IA

"Your staff was extremely attentive and willing to work with my unusual situation. They were timely, efficient, knowledgeable and..."

By Joyce N.
Osceola, IA

"My only regreat is that we changed the way that the washer empties - I wish we had gone ahead and put it back the way it was,..."

By Danny
West Des Moines, IA

"Jason & his crew were the best !! work very satisfactory and clean up great."

By Mary E.
Creston, IA

"Excellent, Top notch, gave attention to details."
Testimonials
from customers I've helped!
Jason L

from

Midwest Basement Systems
Title:
Project Coordinator
Hometown:
Ankeny, Iowa
Jason has tremendous understanding of both basement waterproofing and foundation repair. With a history of providing exemplary service and quality workmanship, Jason brings a focused and intelligent approach to each job he is involved with and is a true professional.
Videos from projects I was involved with: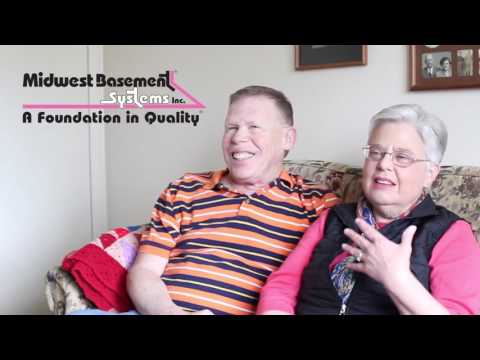 Customer Testimonial - Jim & Carol in Ames,...
Customer Testimonial - Jim & Carol in Ames, IA We interviewed Jim and Carol after having their...
Watch Video
Related Videos
Before and after photos from jobs I've worked on:
Before

After

Here is an example of older, non sealed sump pump system and its replacement with the triple safe system and a SaniDry dehumidification system. The older system had a smaller sump basket, and less inlets supplying water to one pump. The new system has a much larger sump basket, 3 pumps, and a state of the art battery back up system.

Before

After

Wood is one of the rarest foundation types as well as one of the trickiest to deal with.

When a wood wall is bowing it requires not only a brace but also horizontal supports on the top and bottom of the wall.