Foundation Repair in Greater Des Moines, IA
Complete repair services for wall & floor cracks, bowing walls in Des Moines, Ames, Waterloo & nearby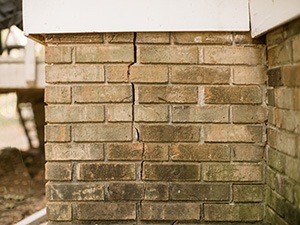 Solutions for every problem. If you have foundation cracks, it is buckling or has other damage, our experts can restore your home to safe, functional condition.
No homeowner wants to deal with foundation repair, but foundation problems can affect your home's safety, appearance, and value. If you've seen issues such as floor cracks, bowing walls, or other foundation damage, Midwest Basement Systems can help. We will find the source of your problem and provide you with a quality foundation repair solution.
All of our patented foundation repair solutions are custom designed for your home. As the authorized Foundation Supportworks dealer in Iowa, we install warrantied products available nowhere else, and all of our foundation specialists are fully trained and certified.
If you're ready to find a solution to your foundation issues, give us a call at 1-800-731-0869 or click below to schedule a professional inspection with one of our foundation repair experts. We offer free estimates on all our work in Des Moines, Ames, Waterloo and throughout the nearby areas.
---
---
Before and After
Before

After

Wet spring soils swelled up with water pushed this basement wall inward. As you can see the crack in the wall is opened up wide. About a half of an inch. The next photo will show the wall is pushed back and the crack is closing as the wall is straightened.

Before

After

This was a home that had been sitting on the market for quite some time due to its foundation issues. The home was beautiful other than the bowing and cracking in the unfinished basement walls. PowerBraces were installed to stabilize the failing walls. PowerBraces can be tightened over time, potentially returning the wall to it's original straight state.

Before

After

A three-fold job in Des Moines area tested all of our skills by requiring replacement of one wall, while putting braces on two others and waterproofing the entire basement.

Before

After

We recently replaced the south foundation wall at the Iowa Catholic House in Des Moines. We also installed a new sump pump and added 6 power braces to two walls that were still salvageable.

Before

After

A collapsing retaining wall that sits beneath a driveway that supports a bridge to the homes garage was in need of replacement.

Street creep had pushed against the wall to the point of its collapse. Midwest Basement Systems replaced the wall with a new poured wall supported by stable fill to keep the pressure conditions consistent.

We also placed helical tiebacks on two other retaining walls.
Get the best foundation repair services from your local experts

No two foundation problems are alike, which is why our professionals will carefully examine your foundation and develop a custom repair plan. We have unique solutions for bowing walls, foundation settlement, floor cracks, and all other types of foundation problems.
All of the products we install are manufactured by Foundation Supportworks, Inc. Each foundation product is carefully designed and tested by a team of structural and geotechnical engineers, and all of our systems come with a written warranty, giving you complete peace of mind.
You don't have to live with stressful foundation problems. Midwest Basement Systems is here to provide you with quality foundation repair services that will restore the integrity of your home. Contact us today to request your free foundation repair estimate in Ames, Des Moines, Waterloo, Ankeny, Urbandale, West Des Moines, Marshalltown, Fort Dodge, Cedar Falls, Mason City or nearby.