Foundation Repair in Iowa
Foundation contractor serving Ames, Des Moines, Waterloo and nearby
If you'd like to get your foundation problem fixed permanently, you'll first need to know exactly what's needed for your unique problem.
At Midwest Basement Systems, our team of certified in-house foundation experts is here to help. We have the training, experience, and warrantied products for foundation repair. Des Moines and many other areas in Iowa all have our happy customers that can testify to the work we've done to restore the integrity of their house foundations.
If you'd like to meet with one of our experts for a home inspection, consultation, and written foundation repair quote, contact us today! Each of our quotes comes completely free and at no obligation.
Common Foundation Issues:
(Click for more information about each solution.)
We use products that have been designed, manufactured, and distributed by Foundation Supportworks™, Inc., an international network of more than 100 of the most experienced structural repair contractors in North America.
Foundation Supportworks'™ team of in-house structural and geotechnical engineers have carefully designed, tested, and patented solutions for repairing foundation problems of all types. Whether you need push piers, wall braces, wing wall fixes or another solution, we can help you.
Each of our products is based on time-honored solutions that meet all local and international standards.
At Midwest Basement Systems, we bring that warrantied, proven quality straight to your door. Contact us today to schedule your free quote!
Before and After

Before

After

Wet spring soils swelled up with water pushed this basement wall inward. As you can see the crack in the wall is opened up wide. About a half of an inch. The next photo will show the wall is pushed back and the crack is closing as the wall is straightened.

Before

After

This was a home that had been sitting on the market for quite some time due to its foundation issues. The home was beautiful other than the bowing and cracking in the unfinished basement walls. PowerBraces were installed to stabilize the failing walls. PowerBraces can be tightened over time, potentially returning the wall to it's original straight state.

Before

After

A three-fold job in Des Moines area tested all of our skills by requiring replacement of one wall, while putting braces on two others and waterproofing the entire basement.

Before

After

We recently replaced the south foundation wall at the Iowa Catholic House in Des Moines. We also installed a new sump pump and added 6 power braces to two walls that were still salvageable.

Before

After

Wood is one of the rarest foundation types as well as one of the trickiest to deal with.

When a wood wall is bowing it requires not only a brace but also horizontal supports on the top and bottom of the wall.


We Have Simple, Permanent Solutions For Your Foundation Problems!
For our contractors, a typical home foundation repair usually takes less than a week to complete. All of our systems come with a written warranty -- so that you know the problem was fixed right, and so you can have peace of mind for many years to come.
Issues like stair-step foundation cracks, buckling walls, and sagging floors can devastate your home's value, and can be eyesores as well. Our foundation repair systems are designed to not only repair the problem, but to bring your structures back into their original positions.
Regardless of why you're experiencing a foundation problem in your home, Midwest Basement Systems conducts a thorough inspection of your home, and we'll let you know exactly what steps need to be taken to permanently stabilize your foundation and restore value to your greatest investment.
Interior Symptoms: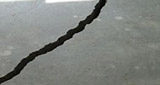 When concrete slabs often settle unevenly, large cracks are likely to form.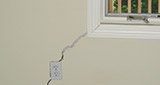 Interior wall cracks typically appear where walls are weakest: near doors and windows.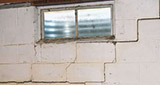 Water-saturated soil can sometimes exert enough pressure to cause foundation walls to bow, bulge or tilt.
Whether it's poor footings or inadequate posts and beams, we can quickly jack your floors back to level.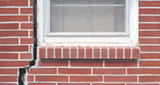 When a floor sinks, openings become out of square, causing windows and doors to jam.
Exterior Symptoms: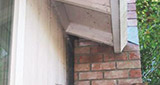 A tilting chimneys can be stabilized and returned to its original position without demolition.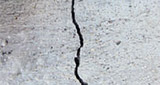 As a foundation is returned to its original level state, cracks will close and be ready for patching.
Looking for a price? Get a no cost, no obligation free estimate.