Cellular Concrete Experts In Iowa

Characteristics of Cellular Concrete
Lightweight. Cellular concrete is much lighter than standard concrete with a density ranging from 15 to 120 lbs. per cubic foot, compared to standard concrete which weighs in at about 140 lbs. per cubic foot. The foaming action during mixing is controlled to manipulate the density of the cellular concrete.
Easy to pump. Since it's made up of tiny air bubbles, and has a low density, it's easy to pump cellular concrete, even over long distances.
Low density, yet strong. Despite the fact that it is lightweight, cellular concrete still tends to be stronger than more compact fills or soils.
Permeable or non-permeable. Depending on its formulation, cellular concrete can be used to prevent water penetration or allow water to flow through the material.
Self-leveling. With its good flow characteristics, cellular concrete works on its own to fill voids and create a level surface.
Acts as Insulation. The tiny air bubbles in cellular concrete give the product superior insulating qualities over other foundation repair products.
No matter what your structural problem, cellular concrete is the answer
Standard concrete is heavy, dense material, which is useful for several applications like footings, foundation walls, and floor slabs. In comparison, cellular concrete is a geotechnical, lightweight material that is made with air bubbles instead of the conventional stone aggregate. Foaming agents are added to the concrete during mixing which creates the air bubbles.
At Midwest Basement Systems, we are aware of the problems created by the shifting and settling of concrete, that's why we offer StableFill™ cellular concrete, which provides a long list of benefits and capabilities. We use cellular concrete throughout Iowa for a number of commercial applications including load-reducing fill, backfill for tunnels and retaining walls, annular grouting for tunnels, fill for bridge approaches, and fill for sinkholes and abandoned underground tanks, pipelines and mines.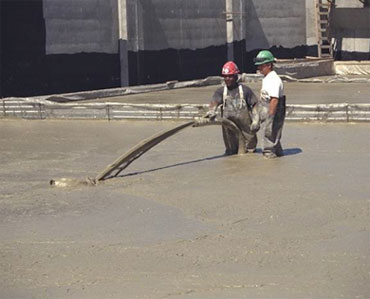 As a locally authorized Foundation Supportworks (FSI) contractor, Midwest Basement Systems offers concrete repair services throughout Iowa, major cities like Des Moines, Ames, Waterloo and other surrounding areas. We offer a free foundation repair quote to solve your foundation problems fast!
StableFill™ is a lightweight, self-leveling, versatile concrete option
Because it's possible to control the density and permeability of cellular concrete, this makes the material extremely versatile. The strong, yet lightweight product is great for a number of applications, including:
Roofing. Cellular concrete (sometimes referred to as lightweight insulating concrete) can provide a seamless layer on a flat roof that insulates the roof while improving resistance against shear forces.
Flooring. Cellular concrete cures to a smooth, level surface when poured over a rough, worn floor, making for a perfect base before installing finished flooring. When pumping cellular concrete over an old floor, screeding or leveling is not necessary. Cellular concrete can also be used to make precast stairs, concrete balconies, and platforms for appliances.
Geotechnical applications. Cellular concrete also acts as an excellent material to improve the load-bearing qualities of poor soil. The special concrete can be poured or injected into the soil, or even applied as a fill material. In doing so, a compressive strength as high as 3000psi may be achieved.
Repair your broken concrete now with our foundation repair estimate
Contact us today for your foundation repair estimate and have one of our Midwest Basement Systems specialists help you decide on the right solution for concrete repair. We offer services throughout Iowa, including Ames, Des Moines, Waterloo, Ankeny, Urbandale, West Des Moines, Marshalltown, Fort Dodge, Cedar Falls, Mason City, and surrounding areas.
| | | |
| --- | --- | --- |
| | | |
| Annular grout for tunnels, water and sewer lines | Ground improvement for building structures | Bridge approach and landslip repair fills |
Looking for a price? Get a no cost, no obligation free estimate.