Basement Flooring Made of Waterproof Materials in Iowa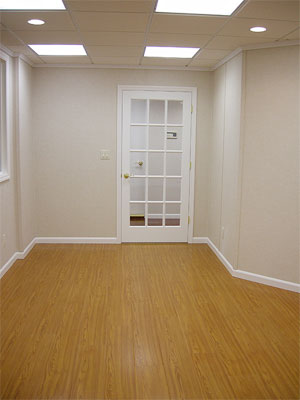 If you're thinking about flooring for your finished basement, it means you're pretty far along in your basement transformation adventure. You've already made sure that you've got a good waterproofing system in place to avoid major moisture mishaps, and you have a pretty good idea of how this new living space will be used.
Choosing basement flooring is an important step. The new basement floor will be one of the most visible features in your remodeled basement, and it needs to look good and last a long time.
"NO" competition: Basement flooring from Basement Systems and Midwest Basement Systems easily outperforms other basement flooring options.
At Midwest Basement Systems, we've seen the unfortunate results of choosing the wrong basement flooring – carpeting, tile and wood flooring that has become damp, moldy, stained and smelly because it wasn't designed for basement use.
We won't sell or install anything but the best finished materials for your basement, including flooring designed specifically for basement conditions. To understand why our basement flooring systems easily outperform the competition, take a look at what our flooring WON'T do.
Here's what we mean when we say there's NO competition for our basement flooring:
NO mess. We don't install our flooring with glue or mastic that traps moisture and creates a sticky mess. Our basement flooring comes in tile or plank form and is designed to click together. It simply rests on the basement slab as a floating floor.
NO mold, rot or odors. Our flooring is made from high-strength plastic that doesn't absorb moisture or support mold. It will never smell or deteriorate because of mold or rot.
NO moisture damage. Even if our flooring gets wet and stays wet, it will not succumb to moisture damage. Because it's designed with a built-in drainage and air circulation space beneath the finished surface, it can shed moisture and dry out quickly.
NO health issues. With our flooring, you won't have to worry about formaldehyde fumes or mold spores contaminating the air you breathe.
NO maintenance. Our simulated tile flooring looks like genuine ceramic tile, but there's no grout to seal or clean. Our MillCreek and ThermalDry® Parquet flooring looks just like wood but never needs refinishing.
NO warping or breaking. Our basement flooring won't break like ceramic tile, or suffer from warping and cupping like wood flooring.
NO freezing feet. The thermal break built into the underside of our flooring tiles creates an insulating airspace between the flooring and the basement slab. This design feature takes the chill out of the basement floor.
NO kidding. The basement flooring systems available exclusively from Midwest Basement Systems aren't the cheapest flooring materials available. But they'll definitely save you money because they won't wear out, deteriorate or require maintenance and refinishing like flooring materials that weren't designed for basement use.
Call or email today to schedule a demonstration of flooring and other unique basement finishing products from Midwest Basement Systems.
We Do Basement Flooring Replacement In Iowa!
At Midwest Basement Systems, to help you decide if our solutions are right for you, we offer free written basement floor replacement quotes throughout our IA service area.
We serve the Ames, Des Moines, Waterloo, area, nearby areas such as Ankeny, Urbandale, West Des Moines, Marshalltown, Fort Dodge, Cedar Falls, Mason City, and the surrounding regions. To schedule an appointment, contact us by phone or e-mail today!
Looking for a price? Get a no cost, no obligation free estimate.