Our Basement Waterproofing System in Des Moines & Nearby Areas in Iowa
We offer effective solutions for all types of basement waterproofing problems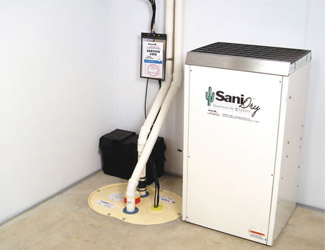 Keep your basement dry all the time. A TripleSafe® Sump Pump System (shown here), combined with a SaniDry® dehumidifier, represents the ultimate in basement waterproofing and humidity control.
No homeowner wants to deal with a damp or wet basement, which is why Midwest Basement Systems provides the best basement waterproofing solutions available. Our expert waterproofers know how to identify the cause of your wet basement, musty smells, and mold problems and can provide you with a high-quality waterproofing system that will eliminate your problems.
If you have water in your basement or want to learn more about our basement waterproofing solutions, call us today at 1-800-731-0869 or click below. We offer free estimates in Ames, Des Moines, Waterloo and many surrounding areas.
Before and After
Before

After

New windows can greatly improve the energy efficiency. Take a look at the difference in these windows we installed in Des Moines, IA.

Before

After

Here is an example of older, non sealed sump pump system and its replacement with the triple safe system and a SaniDry dehumidification system. The older system had a smaller sump basket, and less inlets supplying water to one pump. The new system has a much larger sump basket, 3 pumps, and a state of the art battery back up system.

Before

After

We get asked all of the time, Do I need to remove all of the drywall, or can I cut a section out? And, when I cut a section out how do I get it replaced. Here is and example of cutting 32 inches of drywall out, and when the waterproofing job is completed, replacing the removed section of wall with our revolutionary ZenWall systems and trim.

Before

After

This Egress window was replaced and so it doesn't leak and still lets light into the basement.

Before

After

This home in Johnston, IA had water leakage as well as mold issues due to a leaking old window. Midwest Basement Systems fixed this issue by installing a new window.

Before

After

In the before you can see a window that allows water to enter the basement, and in the after you can see our window dressing that doesn't allow water too collect in the basement window and enter the basement.

Before

After

This home was having trouble with water entering the basement. Due to the moisture in the basement there was an issue with mold as well. Midwest Basement Systems waterproofed the basement and installed EverLast wall paneling.

Before

After

With any type of waterproofing, the sump pump is the heart of the system. Make sure to service your sump pump annually.
---
The causes of a wet basement
Did you know you can have water issues in your basement without heavy rains or obvious standing water? It's easy enough to see water coming through a crack in your floor or basement wall, but what's the real cause of your basement water problem?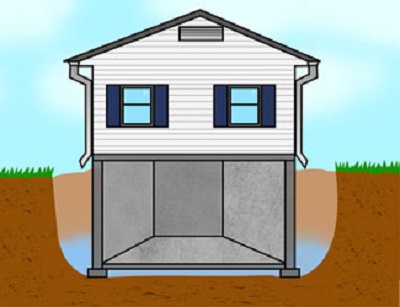 The Clay Bowl Effect
Excavated soil that's replaced around a completed foundation isn't as dense and tightly packed as undisturbed soil farther away. As a result, water collects in the soil immediately surrounding the house, putting pressure on foundation walls and causing cracks.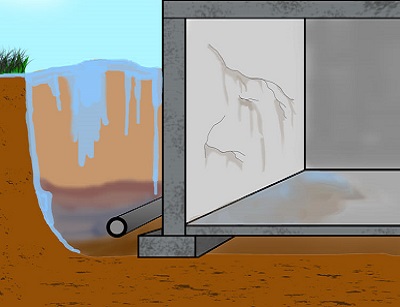 Hydrostatic Pressure
As soil around your foundation becomes soaked with moisture, it expands and puts pressure on your foundation. The water will then work its way through any opening available, including cracks and openings around pipes or windows.
---
What Our Customers Have to Say!
"There was a communication problem related to starting date,too detailed to..."

"Outstanding experience start to finish. Keep it up and you guys will have..."

"I was very pleased with the installation crew. They called every day to..."

By Robert H.
Brooklyn, IA

"Julio and his crew did a phenomenal job, on time, quick, professional,..."

By Carolyn C.
Waterloo, IA

"Thank you! Thank you! Thank you! I can now sleep through a rainstorm."

By Bennie/Sue O.
Waterloo, IA

"Randy was very professional and used his/our time wisely when explaining..."

"I am so thankful that THIS spring and summer I don't have to worry about a..."

"I am so glad we were able to get our basement fixed before all this rain..."

"we got a SANIDRY and I had my doubts that it would get rid of the smell..."

"We gave you all good remarks, but we have not yet seen our new system..."
How we solve your basement waterproofing problems
A home with a wet basement can be much more difficult to sell. In fact, a wet basement is one of the most serious "red flags" that deters buyers. The good news: we offer waterproofing products and services to help solve your basement problems fast. Our solutions include:
Perimeter drainage systems
Doorway drainage systems
Sump pumps
Waterproof wall and floor products
Wall and floor crack repairs
Replacement windows
Water heater flood protection
High strength washer hoses
Our system comes with a lifetime written warranty that's transferable to the next owner, so not only does our system restore value to your house, but it also gives homeowners and buyers confidence that their home is protected.
Six great reasons to choose us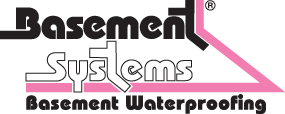 Quality products: Basement Systems® dealers use a complete line of patented, award-winning products that have been keeping basements throughout North America dry for over 25 years.
Fast installations: Our system installs quickly, with most projects completed in just one to two days.
Experienced crews: A crew of experienced contractors will arrive to install your system quickly and professionally. Each one is a waterproofing specialist who dries basements every day.
Cost-effective system: Our waterproofing system can be customized to fit your budget, and it costs about half as much as an exterior waterproofing system. Our system works for both finished and unfinished basements.
Locally-owned and operated company: Midwest Basement Systems is the locally owned and operated member of the Basement Systems network. We have products and training that simply can't be beat!
Free waterproofing quotes: We offer free waterproofing quotes to homeowners in our service area. Our quotes come in writing, and there's no obligation!
Get expert basement waterproofing services today
Our crews of waterproofers are experienced, well-trained professionals who work in basements and crawl spaces every day. The experts at Midwest Basement Systems have seen it all, and we know just what it takes to keep your basement dry all the time!
If your basement leaks or floods, or you have mold, mildew or a musty smell, call us today to request a free basement waterproofing estimate in Urbandale, Ankeny, Marshalltown, West Des Moines, Cedar Falls, Mason City, Fort Dodge or nearby. We will send one of our certified basement waterproofing specialists to visit your home and conduct a thorough inspection of your home's basement foundation.